A
Pirate
Looks At 25
---
The Weather Is Here,
I Wish You Were Beautiful
---
This page is dedicated to Jimmy Buffett, the lifestyle that he promotes, and a climate that is much warmer than what I experience in Rochester, NY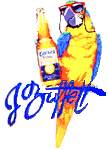 I am a parrothead, even though I have not been one for very long. I always had a Jimmy CD (Songs you know by heart) in my collection but never really listened to it very much. A while ago I dug it out and couldn't believe how much I liked it. It soon became my favorite CD and I found myself looking up Bubba sites on the net. I found a whole community of Phriendly, Phun loving, and Phanatical people who are as demented as I am known as Parrotheads. I immediately knew that I was home.

The closest group that I can think of that resembles Parrotheads are the famous dead heads. How else can you explain how a man who has only had 2 hits in his career can have his whole summer schedule sold out, many of the shows minutes after the ticket lines open. That is a whole new can of worms though.
I was not thinking and waited a day or two to buy tickets to Great Woods this labor Day. I obviously waited too long. I have not been able to make it to any shows as of yet and due to that I will probably not be able to make it till next year. I can guarantee you that nomatter where I am though, when the tickets go on sale, I will be on the phone to make sure i get tix.
My Buffett collection started out with the typical Songs You Know By Heart. I had that sitting in my CD collection until earlier this year. It then became my favorite CD and soon afterward i went out and got Coconut Telegraph. I LOVE IT!! then came Havanna Daydreaming. That one just didn't quite do it for me off the bat, but it grew on me. My brother got me Barometer Soup for my birthday last September 25th and Kelly, my lovely lady, got me the Box set. They are both great! Then I got Carnival. In my humble opinion, that is just one of those legandary CDs that every CD collection should have. I have to admit that I can't quite get into the most recent release by Mr. Buffett, Beach House on the Moon, but maybe with time who knows.
I read A Pirate Looks at 50 and I really liked that and am looking forward to getting Joe Merchant. I have heard good stuff about that. I am also working on building some wallpapers and maybe some startup screens as well. we will have to see multimedia stuff is all pretty new to me. So long for now. Keep your fins up, sign my guestbook and remember, real pilots burn 100LL fuel!

Here are some links that I have come across and all have been verified to be pretty darn cool.


Go and visit Christopher. He has what will probably be one of the coolest PH sites out there. He has been collecting photos of his lost shaker of salt in various locations. he wants anyone that can send him a picture of this shaker in any of it's journeys to do so.

Like all great musicians, Bubba also has a tribute band and from what I have heard they rock. Check out their site and go see them if you can. maybe they will come to Rochester, NY someday (Yeah Right!) or you can visit his personal site

Here is a site with lots of links on it. If you are looking for somewhere to be able to link to a lot of great sites, this is the place to go

Now that you have been exposed to this phenomenon, you may be looking to trade in the shirt and tie for something more suiting, but what to wear??? Click on the shark for some cool merchandise and a chance to win!
My Favorite Song
---
This would have to be without a doubt Boat Drinks. it pretty much sums up my entire experience with my life. I live in a cold climate lots of hockey and "This morning, I shot six holes in my freezer, I think I got cabin fever, Somebody sound the alarm" is how i feel most of the time
My Favorite Quote
---
I am torn between two quotes the first is from He Went to Paris " Jimmy some of it's magic, some of it's tragic, but i've lived a good life all the way" that one always makes me really sad.

The other is from The Weather is Here, I Wish You Were Beautiful " His Partners are calling his palace, his girlfriend doesn't know what to think, his lawyers are studying their options, He's just singing and ordering drinks" the tone with which Jimmy sings that last part always makes me smile.

tHiS IS ThE wOOdRO LiZaRD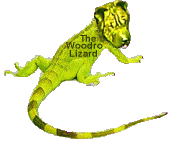 He Requires a cheeseburger in paradise to be fed to him every 5 hours. Click on the burger to feed him.

Here are some things from
that I can personally recommend!!!! Click on the link to order


Last Updated July 22, 1999
http://members.tripod.com/~DarrylY/buffett/buffett.html