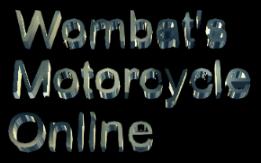 ---



---
Here is a picture of my baby, my 1985 maroon Yamaha Virago 700 that was run into a guardrail in Binghamton, NY by a family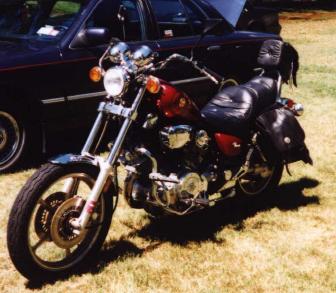 member. Luckily everyone involved is going to be ok thanks to God and some stitches.

The person that owned it before kept it in his bedroom so it was in showroom condition. It had a single pin crankshaft and a 699cc offset v-twin engine. They had to cut back the 750cc bikes they had been producing due to the mid eighties import tariffs caused by the then poorly performing Harley Davidson company. Those Bastards.

She performed well with very few complaints. the gas tank only allowed me to get about 120 miles on a tank and had virtually no reserve and they should have put another high gear on it. At 70 I was running about 4600 rpm on a 7500 redline. I would have liked to cruise around 3500-4000. Other than that she was dependable and fun to ride.
---
My first bike was a 1982 Kawasaki KZ550. Now that was a fun bike to ride.
I really wish that I did not sell her. She was really hard to start in the cold weather, but once she was warmed up that inline 4 cylinder engine really screamed off the line. I am friends with the person that owned the bike before me and he wishes he did not sell it either. Oh well. She was not too comfortable for long rides and I spend a lot of time on the highways so I need a custom bike like a shadow or magna.
---
I am currently looking into restoring my 1975 Yamaha RD200. For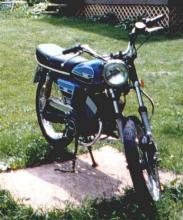 those of you unfamiliar with this bike, it is a mid 70's 2 stroke that Yamaha came out with. it had both a kick start and an electric start. .

She went into storage around 1980 where she stayed until around '86 when i brought her out and ran her as a trail bike. It is still light enough to handle dirt roads and dry trails fairly well. I will be needing to file for a lost title and get new turn signals and an instrument cluster. After that it will just be a matter of getting the carbs synched. Anyone with info to help me with this feel free to email me .

---


This Motorcycle Web Ring site is owned by Wombat's Motorcycle.

Click for the
[Previous] [Skip Previous] [Random]
[Next] [Skip Next] [Next 5]


Click here if you would like to joinThe Motorcycle Web Ring.